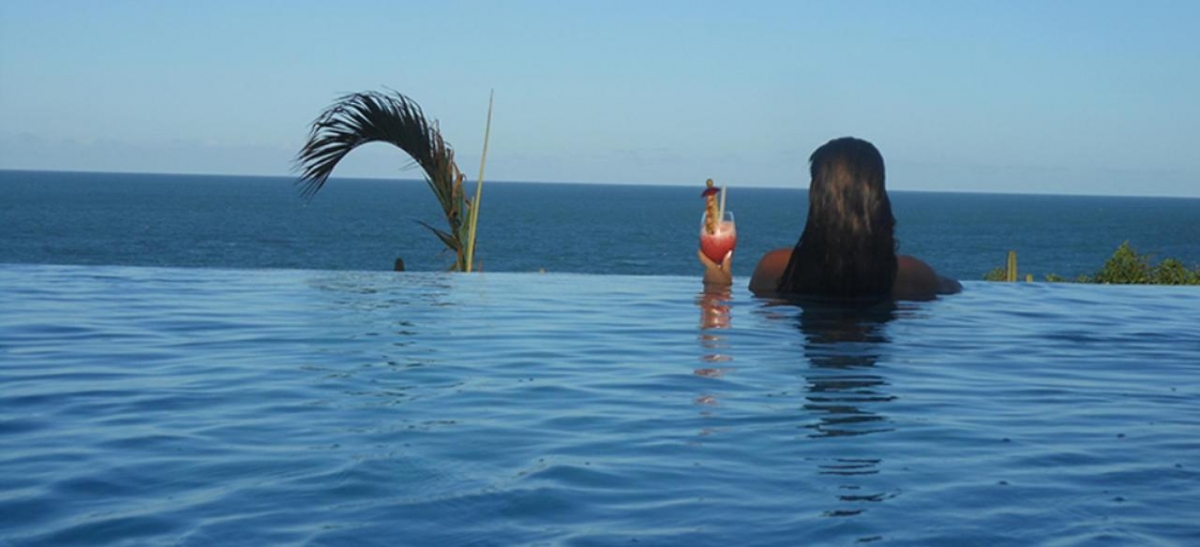 Pipa Privilege Suites
Considered one of the hotels with better views of the sea due to its privileged location.
Inhale slowly relax ......imagine the fresh air of the sea invades your lungs and exhale with energy.
Awaken with the sparkle of a soft glow, and, when you opened your eyes, keep in mind that the sun begins to stretch, to have been born in the sea. Surprised by this rare beauty, he gets up, opens the door, feels the gentle breeze of the sea on his face and bottom, the sound of the waves like the soundtrack of his morning.

Prepare for a unique and unforgettable moment.
Welcome to Pipa Privilege, considered by many of our clients as the most beautiful view of all Rio Grande do Norte. Located 40 meters high, on top of a cliff, they offer a unique view of the sea, a memorable visual representation.
We are between the lively Pipa and quiet Tibau do Sul, on the paradisiacal beach of Cacimbinhas.
They are only 14 spacious lofts, all with sea views, and distributed harmoniously in 7,000 m2. We value the uniqueness, the contemporary architecture and the minimalist decoration.
We have direct access to the paradise beach of Cacimbinhas, and we are 800 meters from the beach of La Corredera, where you can swim with the dolphins.
And the integration of the pool bar room and solarium terrace offers the perfect setting for a surprising coldness at night.

Accommodation
"The great secret to compliance is very simple: to share."
Socrates.

It was inspired by this wise teaching that we seek to offer our guests an unforgettable experience of waking up to a unique and memorable visual, and being part of this spectacle of nature.

Thanks to our privileged and harmonious location, minimalist decoration on the top of a cliff, all our lofts have direct views of the sea and the transmission of the sunrise of peace.

*Luxury Loft - Deluxe Double Room with Ocean View
*Premium Luxury Loft - Premium Suite with Ocean View
*Premium Luxury Loft - Suite with Ocean View
*Master House - Three-Bedroom House, Living Room and Kitchen with Ocean View
*Premium Loft Elegance - More space with privileged views!
OUR STRUCTURE

Pipa Privilege is the correct address for your reception, be it a wedding, birthday or corporate event. We have special packages, differentiated services and a unique environment that will make your party unforgettable for you and your guests.
Crystal Hall to celebrate facing the sea, in an exclusive area with air conditioning - perfect for social celebrations or business meetings. The living room also has an outdoor green area with a capacity for 120 guests, or it can become a large space for the assembly of toys for children's parties, dance floor for teenage events, or even in a training area for companies.
Outdoor green area to celebrate with style at the top of cliff Cacimbinhas. Great room for beach parties in style in nature, and with a right to a buffet designed especially for your event.
The lounge bar area to celebrate with friends, music and drinks, with elegance and sophistication.
Barbecue area, to celebrate with the best cuts of meat, skewers, appetizers, spices and seafood without losing the refinement and under the command recognized chef Bishop.

---
Location
---
Pipa Privilege Suites en Facebook
Pipa Privilege Suites en Instagram
Pipa Beach Brazil Hotel
Some special places to stay in Pipa Beach